North Park Kids has a place on Sunday morning for your youngster of any age!
Nursery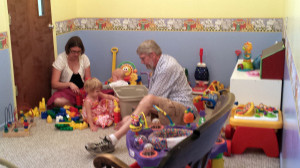 A fully-equipped and staffed nursery for your tiniest tots, age 0 to 2.  Feel free to bring your child to the nursery before the 10:45 service begins.
Pre-K / Kindergarten/ Lessons geared for non-readers to early readers.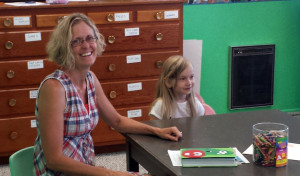 We have teachers available so children can be taken to their classroom before service starts.   However, children can also remain with their parents for worship music during our 10:45 service, then are released for Childrens' Church around 11:00. We do ask that parents take their child of this age to the restroom before bringing them to class.
Pre-K and kindergarten kids enjoy their first Bible lessons, along with snacks (usually fruit snacks) and plenty of play time!
Elementary/ 1st – 5th Grades
After joining the adults for worship music at the 10:45 service, elementary kids then enjoy a lesson from the Bible, creative crafts and games.
On your first visit, be sure to bring your kids to the North Park Kids table at least 5 minutes before the service begins to get registered.   Please alert the staff of any allergies your child may have.  All North Park Kids staff undergo a background check before serving.